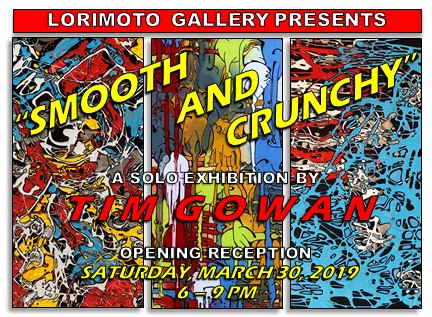 "Smooth & Crunchy" Opening Reception on Saturday, March 30th from 6 pm to 9 pm at Lorimoto Gallery in Ridgewood (near the Halsey L train stop & the Myrtle/Wyckoff M train)
1623 Hancock Street, Ridgewood, NY
***for further details, directions ,etc. go to the show's Eventbrite page by……
My rooftop is my studio!
When Mother Nature permits, I go do the dirty work. I grab my boards, enamels, spray, tools, tarps, goggles and respirator; go topside to the roof, set up shop and paint like a mutha-f#*ka!
it's about the art, man.
I'm predominantly an abstract artist, first influenced by the plasticity and architectonics of the early moderns like the Bauhaus and Constructivist.  Then, a fusion with the New York School Ab-Ex and Deconstructivism.  And now?  Something unexpected occurred.  Dormant teenage influences are percolating, coming out of the shadows and expressing itself in my work.
street punk ab-ex!
I grew up in suburbia, on The Island.  I was a Mallrat, hangin at the arcade in Roosevelt Field playing Defender, Space Invaders, smoking cigarettes, wine coolers, and scoping the scene.  Trying to be extreme, BMX, Skateboarding, OP shorts and Vans.  Collecting comic books, X-Men, Daredevil, Micronauts and Silver Surfer to name a few.  Watching G-Force, Star Blazers, Thundar the Barbarian, and remember the movie Heavy Metal?  WLIR's 'Scream of the Week'.  Def Lepperd, Twisted Sister and MTV when they showed videos.  Graffiti when it was on subway cars and gazing at the stained-glass windows in church to pass the time.   
teenage angst…i was (and still am) a rebel in my own mind.